Seinfeld, Cho Take a Drive in a Mazda Cosmo Sport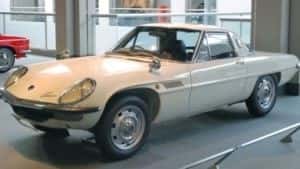 If you were a car enthusiast in the 1960s, odds are you remember the sporty, stylish 1967 Mazda Cosmo Sport. Comedian Jerry Seinfeld, who happens to own an impressive collection of cars, sure does. The hot ride never made it to the United States when it was new but since they left the market, several have made their way to our shores. In a recent episode of Comedians in Cars Getting Coffee, Seinfeld picks up Margaret Cho for a ride.
The ride in question is, as you may have guessed, the Mazda Cosmo Sport. If you happened to miss it, you can check out the full episode on Crackle.
The Mazda Cosmo Sport went out of production a couple of decades ago (1996 to be exact) but Seinfeld managed to get behind the wheel for the latest episode of the comedy show. The classic Mazda is in pristine condition, right down to the upholstery. A right-hand drive model, Seinfeld is driving but Cho is in what's considered the driver's seat here in America.
There's nothing like a good throwback to the coolest cars of decades past!
Here at Lancaster Mazda, we wouldn't object to a revival of the Mazda Cosmo Sport!