Lancaster Mazda Testimonials
A sincere THANK YOU to all our favorite customers!
Recently purchased a Cx5 touring. We worked with Nate Woodcock and he was so easy to work with. Very knowledgeable, not pushy and an all around nice guy!! Give the man 5 stars! We couldn't be more pleased with our new vehicle. This is our 5th Mazda, 4 of them purchased at Lancaster Mazda. Need I say more?!
After visiting two other Mazda dealerships with bad experiences almost gave up in the search to find a Cx-30. Called in and spoke to Nate, wanted to make sure the vehicle was there before driving an hour to Lancaster. As soon as we spoke to him I could tell we were going to have a great experience just from the phone call. He was quick, courteous and professional. We stopped in took a test drive (he has the MOST knowledge about the Mazda line of anyone I have talked to) told them what I wanted for my trade. Came back with numbers at exactly what I was looking for. Worked with Emily in finance. The whole time we were laughing, joking around, and having a great experience. If you're looking for a Mazda give them a shot and work with these two you will not be disappointed. Thank you again Nate and Emily for everything!
It was our first experience with a Mazda dealership and it was a really good experience. Hunter Weibley at Lancaster Mazda did a great job of getting us thru the process of getting a CX5. He was friendly ,knowledgeable and helpful. Everyone we came in contact with was friendly and helpful.No pressure from anyone.
Lancaster Mazda did a great job making my first car buying an exceptional one. Friendly and patient staff made the experience even better. I definitely will be back to Lancaster Mazda in the future. Thank you for all your assistance.
Sales employees were extremely knowledgeable about all of the features in our new cx5. We were both treated with the upmost of respect. They were not pushy as some dealers are. Highly recommended!!
I had already test driven a Mazda 6 GT at another dealership. I found this GTR online at Lancaster Mazda, chatted with a Rep. whose name escapes me, connected with Tre, and purchased my New Mazda 6 GTR 4 days later. Tre, Emily, and Rick were great. I really am enjoying this car!
Our experience at Lancaster Mazda was truly fantastic. Thought we'd only test drive, having never bought a Mazda before. Instead, test drove and purchased our Mazda CRV-5 SUV on the spot 7/31/20!!
I purchased by 2017 CX-5 Grand touring from this dealership recently after seeing a listing for the car online. I was able to quickly schedule a time to come in and test drive. I worked with Taylor. She was very knowledgeable and wasn't pushy at all. Any questions I had that she didn't know the answer to, she followed up with me expediently. I can't say the same of other dealers I worked with. Their counter offer to my original offer was reasonable and I feel I got a good price for my vehicle. I also had asked to install the Apple Carplay upgrade prior to picking up the car and Taylor had it taken care of before I had to follow up. I had a small clip in the trunk break after picking up my car. I texted Taylor and she had a replacement piece ordered and delivered the next day. When I picked up the piece, someone from the repairs department came out and installed it for me after I had asked for a tool to do it myself. Overall, I had a very positive experience at Lancaster Mazda and would definitely recommend buying from them in the future.
Robb Dorf was exceptionally knowledgable, friendly, helpful and went above and beyond efforts in customer service. I highly recommend Robb. I purchased a new car and a used car from him within weeks.
Salesman Chris Grubic friendly yet professional, knowledgeable and helpful. A few days after the purchase, I had a question about Android Auto, stopped in, Chris and another sales person took the time to help me out. Operation of some of the technical features was exactly as Chris had described them. So far, I'm very pleased with this dealership.
Tre our salesman did an awesome job thru the buying process. Also the finance process was top shelf. Had an overall stress free process. Will recommend
Purchasing a new car is a major investment and for me I wanted all the bells and whistles at the best price possible. I found that in my 2020 Mazda CX-5 Signature that I recently purchased from Lancaster Mazda. I felt like I was in great hands with the customer service I received from Robb Dorf. He was pleasant to work with and knew all of the answers to my questions. If your searching for a car dealership and sales person...Robb and Lancaster Mazda is your to go spot.
Bought a brand new 2020 CX-5 and from start to finish it was one of the best car buying experiences I've ever had. A big thank you to Kelly for getting the experience started and Hunter for helping finish the deal. Would definitely recommend Lancaster Mazda for anyone looking for a great car buying experience.
Sales rep was very friendly, accommodating, and knowledgeable! Hunter made the shopping experience fun and relaxing. Took delivery of car within 2 hours and he made sure I knew how everything worked before I drove off. Everyone was super friendly and helpful and that made it even easier to trade in my 11 year old much loved CX9 for a new CX-5. Daughter's CX3 lease is up in July and we will be back again for another great car shopping experience when she upgrades!!
My leasing a Mazda CX-5 from Lancaster Mazda exceeded all of my expectations. In fact, every one I met during the pre-lease through the sale exceeded expectations from many years of car buying and leasing experiences. Special mentions to Taylor, Nick, and Emily.
Sale staff and management are friendly, knowledgeable and efficient. A few days after the purchase, I had a question about the operation of an accessory and stopped in. My salesperson was not there, but another salesperson took the time to instruct me and answer my questions. So far, I'm very pleased with this dealership.
Lancaster Mazda Service is the best. Just recently, my son Ryan's Mazda 3 brokedown, and was disabled due to battery and drive belts. AAA towed the car to Lancaster Mazda at night. The next day, I worked with Jeff and Todd, and they were amazing. They got the car in that day, a busy Friday, and had it fixed and ready to be picked up at the end of the day. Ryan was then able to make it to work on Saturday. I have never been disappointed by Lancaster Mazda, they are awesome, and Jeff and Todd are Saints. They go above and beyond the call of duty, and I greatly appreciate it ... Gary Craig ... :-)
Worked with Taylor Stoltz who was very helpful and patient as we were trying to decide on whether or not we would be leasing or purchasing our 2019 new car.
Lancaster Mazda is a great place to buy a new Mazda. I had the privilege of working with sales associate, Deb Anderson. She is so nice, knowledgeable about all Mazdas, and felt no pressure to purchase a car. She answered all my questions and showed me how everything worked, with patience and understanding. I highly recommend her and Lancaster Mazda if you are looking to buy a new Mazda.
I bought my new Mazda6 when it first came out in late 2018. I test drove different brands at many dealerships but none other than Lancaster Mazda treated me with dignity and friendly. On that day I just came to Lancaster Mazda to look at the new design but drove home with a new 2018 Mazda 6 Touring with deep blue crystal color. I love it so much and get many compliments from my friends. Thanks to Deb Anderson, product specialist, and Brad Allen, sales manager, who put me in my new car. I have a wonderful time talking with both at the dealership.
Thanks to Chris Grubic and the staff at Lancaster Mazda, was as able to accomplish what I set out to do. With a life and career change, a lesser monthly payment was in order. Lancaster Mazda put me in the 2019 Mazda3 AWD for the payment that was needed. Thanks again! The car is wonderful, I think Mazda has a new loyal customer.
Love my CX-9 but am very disappointed that it does not include a CD player, nor is one available. It is complicated to find how to tune radio when you want a specific AM/FM station. Instruction book does not index specific procedures like trip mileage (how to do it.) The answer is in the book but hard to find.
Nothing prepared me for how great the new 2019 Mazda (Matsuda?) 6 Grand Touring Reserve would be. Only after purchasing the car did I venture onto YouTube to see about the 2019 Mazda 6 Grand Touring 2.5 Turbo, and almost to a man a woman, reviewers were gushing about how much the car has evolved and improved, but I'm getting ahead here... I test drove this car on a whim, having test driven 2 Honda Accord Sports a few hours earlier. The sales experience at the Honda dealership left us a little...let down. My wife and I were a little morose about having to go to another dealership, but a jolly ray of sunshine named Chris Grubic made us thankful that we stopped into Lancaster Mazda. We were looking for a larger car, and there in the showroom was a pristine, white Mazda 6. Chris had a couple of Grand Touring trims available for test drives, and I (we) were immediately impressed with how great the car is, comfortable, tech oozing everywhere, Bose Premium Sound (my wife is just a bit envious of this stereo's clarity), heated front AND rear seats!!! Plus that engine...I must admit that the plain jane 2.5 left me a little disappointed in a 2015 CX-5 we test drove months ago, but strap a turbo onto it and you only need to move the throttle a wee bit to get a lot of forward shove. As he was being shoved deep into the passenger seat, Chris was answering every question we had, no hesitation, we both appreciated having such a knowledgeable Customer Service rep on board! He knew stats, he knew lead times for delivery if we wanted a different trim level, he was very astute with all goings that were Mazda. He did not stray from the 6 or try to lead us away from our needs, he asked questions, he listened, and here I am 2200 miles later and enjoying my car. Chris deserves major props for helping us, and if I need another vehicle in the future I will definitely ONLY buy from Chris Grubic. Now if I can convince my wife that we NEED a Mazda MX-5 Grand Touring with the 6 speed manual and retractable steel roof...one can dream, right? Chris, help a guy out! And thank you so much, from both of us. Cheers!
Thanks Deb for putting us in our new car today. was great meeting you and the rest of the staff. And thank you for taking time to explain all the new gadgets on a great car.
Salesperson was knowledgeable of the vehicle i was interested in buying. Very professional, courteous. Made the buying experience stress free. Would seek Deb Anderson out again for another purchase.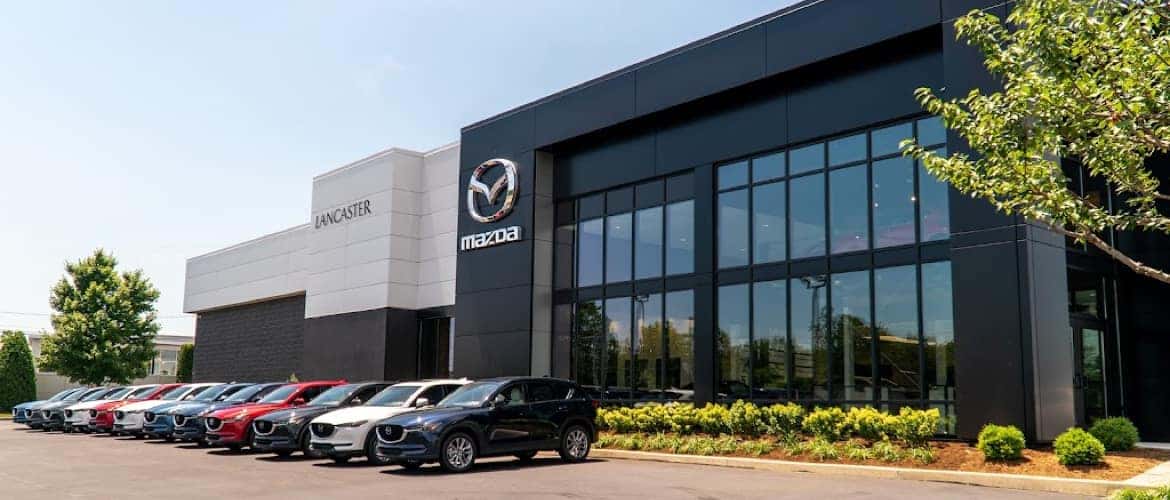 Welcome to Lancaster Mazda
Lancaster Mazda is proud to be your Lancaster area Mazda dealership. We offer a fresh selection of new Mazda cars and SUVs. Whether you want a sleek MAZDA3 or a spacious MAZDA CX-5 , our Mazda dealership has the vehicle you are looking for. We also have a quality selection of used cars available at even better prices. What makes us stand out amongst competitors in the area?
Our aggressive pricing and outstanding customer service. We pride ourselves in our financing, parts, and service departments that all feature top-quality specialists who are here to make sure customers are well taken care of and leave the dealership happy. Don't forget to check out our specials for great incentives on our most popular vehicles!
Located in East Petersburg PA, Lancaster Mazda serves the Lancaster area including Lancaster, York, Lititz, Manheim, and Landisville, PA. Please contact us today with any questions at (717) 429-0613!
Lancaster Mazda
East Petersburg, PA
5120 Manheim Pike, East Petersburg, PA 17520
Hours
Sales
Monday - Friday: 9:00 AM - 8:00 PM
Saturday: 9:00 AM - 5:00 PM
Service
Monday - Friday: 7:00 AM - 5:00 PM