Lancaster Mazda Testimonials
A sincere THANK YOU to all our favorite customers!
Recently purchased a Cx5 touring. We worked with Nate Woodcock and he was so easy to work with. Very knowledgeable, not pushy and an all around nice guy!! Give the man 5 stars! We couldn't be more pleased with our new vehicle. This is our 5th Mazda, 4 of them purchased at Lancaster Mazda. Need I say more?!
After visiting two other Mazda dealerships with bad experiences almost gave up in the search to find a Cx-30. Called in and spoke to Nate, wanted to make sure the vehicle was there before driving an hour to Lancaster. As soon as we spoke to him I could tell we were going to have a great experience just from the phone call. He was quick, courteous and professional. We stopped in took a test drive (he has the MOST knowledge about the Mazda line of anyone I have talked to) told them what I wanted for my trade. Came back with numbers at exactly what I was looking for. Worked with Emily in finance. The whole time we were laughing, joking around, and having a great experience. If you're looking for a Mazda give them a shot and work with these two you will not be disappointed. Thank you again Nate and Emily for everything!
I purchased by 2017 CX-5 Grand touring from this dealership recently after seeing a listing for the car online. I was able to quickly schedule a time to come in and test drive. I worked with Taylor. She was very knowledgeable and wasn't pushy at all. Any questions I had that she didn't know the answer to, she followed up with me expediently. I can't say the same of other dealers I worked with. Their counter offer to my original offer was reasonable and I feel I got a good price for my vehicle. I also had asked to install the Apple Carplay upgrade prior to picking up the car and Taylor had it taken care of before I had to follow up. I had a small clip in the trunk break after picking up my car. I texted Taylor and she had a replacement piece ordered and delivered the next day. When I picked up the piece, someone from the repairs department came out and installed it for me after I had asked for a tool to do it myself. Overall, I had a very positive experience at Lancaster Mazda and would definitely recommend buying from them in the future.
Lancaster Mazda Service is the best. Just recently, my son Ryan's Mazda 3 brokedown, and was disabled due to battery and drive belts. AAA towed the car to Lancaster Mazda at night. The next day, I worked with Jeff and Todd, and they were amazing. They got the car in that day, a busy Friday, and had it fixed and ready to be picked up at the end of the day. Ryan was then able to make it to work on Saturday. I have never been disappointed by Lancaster Mazda, they are awesome, and Jeff and Todd are Saints. They go above and beyond the call of duty, and I greatly appreciate it ... Gary Craig ... :-)
I stopped in the Lancaster Mazda service department on 22 Oct 18. I had an issue with my console lights not working which I felt uncomfortable driving my car with issue. I asked Tod if he could let me know if I needed a fuse replaced or needed to leave my car. He was so nice and said he would come right out and see if he could easily fix it. I recently had my car battery replaced. He was able to see that my car settings went back to auto settings when battery was replaced. He changed the lighting settings to Day which fixed the issue. He then said my stickers were blocking the light sensor. He then asked if he could remove my out of date stickers. He spent another 10 minutes removing stickers. I was so happy to see someone being so helpful at a dealership. I was not charged for his time. I wish all car issues could be resolved like this! I'll definitely keep going back to Lancaster, Mazda dealership for my repairs. I've been lucky not to have any issues with my 2018 Mazda CX-9 but if I do I know where to go.
After hitting a deer, my Mazda 6 had electrical problems that nobody could solve. Nick at Lancaster Mazda found and fixed the problem, held to a very low initial estimate even though he must have put in a lot of hours, and kept my wife and I informed of the situation every step of the way. I would highly recommend Lancaster Mazda if you need service!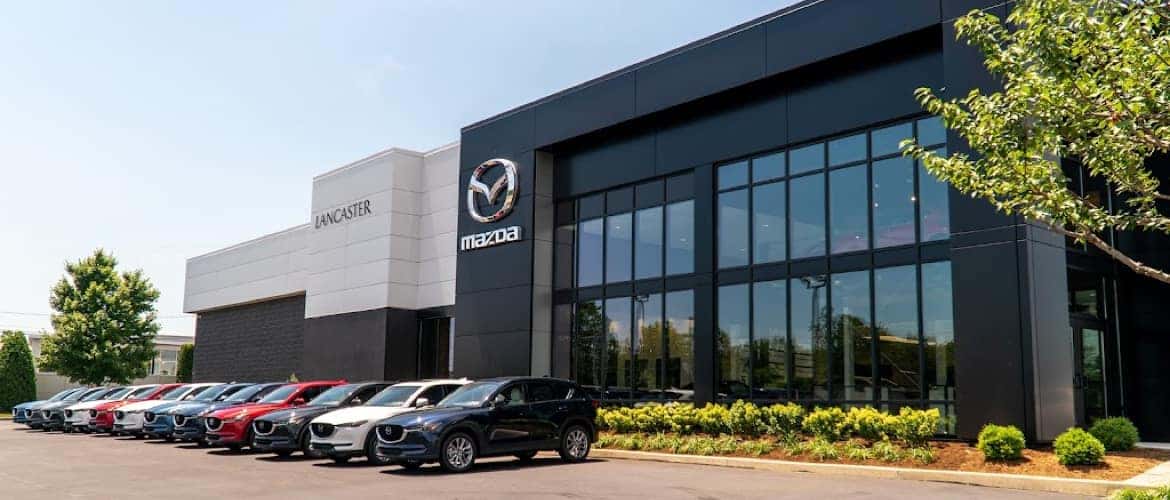 Welcome to Lancaster Mazda
Lancaster Mazda is proud to be your Lancaster area Mazda dealership. We offer a fresh selection of new Mazda cars and SUVs. Whether you want a sleek MAZDA3 or a spacious MAZDA CX-5 , our Mazda dealership has the vehicle you are looking for. We also have a quality selection of used cars available at even better prices. What makes us stand out amongst competitors in the area?
Our aggressive pricing and outstanding customer service. We pride ourselves in our financing, parts, and service departments that all feature top-quality specialists who are here to make sure customers are well taken care of and leave the dealership happy. Don't forget to check out our specials for great incentives on our most popular vehicles!
Located in East Petersburg PA, Lancaster Mazda serves the Lancaster area including Lancaster, York, Lititz, Manheim, and Landisville, PA. Please contact us today with any questions at (717) 429-0613!
Lancaster Mazda
East Petersburg, PA
5120 Manheim Pike, East Petersburg, PA 17520
Hours
Sales
Monday - Friday: 9:00 AM - 8:00 PM
Saturday: 9:00 AM - 5:00 PM
Service
Monday - Friday: 7:00 AM - 5:00 PM